Tips for Helping Your Child Choose a Musical Instrument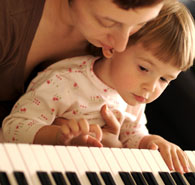 Your precious bundle of joy and energy returns home and announces that they want to join a band. Do you jump for joy, cringe at the thought, or waiver in the vast land of uncertainty?
Thoughts race through your mind and the anxiety begins. How much will it cost? Where do I find an instrument? Where do music teachers hang out? Will soundproofing the garage be necessary? Will it require spiky purple hair? Where is that bottle of scotch?
Before panic completely sets in, a few questions will help determine if your child is seriously interested in learning a musical instrument or if it is just a passing thought. Inquire what event peaked your child's interest in music and what specific instrument they are considering.
There are different types of bands to choose from. A concert or classical band plays mostly indoors and would require a more formal dress for performances. A marching band however practices indoors and out, in hot and cold weather and the participants generally dress alike in a traditional marching band uniform which can be uncomfortable at times. A marching band also requires a considerable amount of physical activity and coordination and may not be suitable for some children.
Another option is the garage band. This type of band really has no set standards, but may require earplugs and a considerable amount of patience from the neighbors and other family members.
If you determine that your child has a genuine desire to learn a musical instrument, it is important to discuss the perseverance and discipline that will be necessary to carry out this endeavor. Countless hours of practice and care of the instrument will be required of your child and learning to play well can be tedious and frustrating before it becomes a rewarding and fulfilling experience.
A good place to begin your quest for a quality instrument may be the music teacher at your child's school. Music teachers often have an excellent understanding of many different instruments and what is required to play an instrument well. Instruments can be purchased new or used and manufactured by different companies. A music teacher may be able to give you an idea of the price range to expect for your child's instrument of choice, what brands to look for and even where to purchase one at a reasonable price.
Naturally your first place to start shopping is through the online merchants listed here on MusicansCoupons.com, such as MusiciansFriend.com and GuitarCenter.com. Your local yellow pages should also list music stores and dealers of used musical instruments. You may find an interesting mix of people in music stores and starting a conversation with a fellow customer may give you an inside look at the ins and outs of playing a musical instrument. The business owner or employees are also trained to answer frequently asked questions and assist you in making your purchase.
If you are unsure that your child is committed to playing long term or if cost is an issue, ask if the store offers a rent to own type of payment plan or special financing.
Word of mouth is useful in finding a good music teacher. Ask around and take mental notes on who comes highly recommended, and who is available to take new students. The classified section of the local newspaper will list some music teachers as well as the yellow pages. Now would be a good time to talk to the school's music teacher again and root out some possibilities. You will want to choose a local teacher who keeps appointments, has a good reputation and experience working with children.
Keep in mind that the first few weeks of musical genius that your child produces may sound more like dying animals than beautiful music but hang in there, it will get better and helping your child choose a musical instrument can be a pleasant experience.
More MusiciansCoupons.com tips and ideas on picking musical instruments:
» Musicians Coupons » Info and Tips for Musicians » Musical Instruments » Deciding Which Musical Instrument to Play