Choosing the Perfect Musical Instrument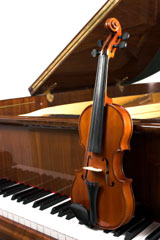 So you want to be a musician. You always have one tune or another in your head and your fingers are itching to play. Now what? Maybe you already know what instrument intrigues you. Good start. Choosing your axe is fundamental and the options are almost endless. So, how does one begin to select an instrument to play?
There are several things to consider:
Hand size: Spread your hand as wide as it can go. Your hand-span is vitally important when choosing an instrument—no point in purchasing a piano if you can only reach four keys. Better you should consider a piccolo.
Sing or Not Sing: If you want to accompany your singing voice, stay away from wind instruments. One exception: Harmonica.
Available practice space: If you have a spacious, sound-proofed basement, by all means go for a full-on drum kit. If your practice space is limited to one tiny bedroom, consider a tambourine.
Consider, too, your dedication and musical aptitude. What sort of music do you want to learn to play? If your tastes run to Mozart you will probably not want a banjo. If Country is your thing, a Celtic Harp is likely not for you. Many music stores have practice rooms where they will allow you to spend time with various instruments. This is a good way to get a feel for whatever instrument you choose to invest in. Perhaps you're not entirely dedicated to one axe over another—in this case you may be able to rent an instrument before deciding to purchase.
The main thing is to find something that feels good in your hands and is fun enough that you'll remain devoted to practicing. Whatever you decide to play, practice is the most vital key to getting good. Sure, there will be days when picking up an instrument and playing it will be the last thing you want to do. On those days, commit to play only three minutes. Chances are those three minutes will be enough to inspire you to play longer. If not, then at least you practiced three minutes. Which is loads better than skipping it altogether.
There are a few lucky people who can play about any instrument they pick up, but nobody gets excellent without loads of rehearsal. With dedication and devotion to your musical instrument, you will get better and better. Don't be discouraged if your first attempts sound hideous; stick with it and your efforts will pay off. Many places that sell instruments will also offer lessons. If not, perhaps they have a bulletin board with postings from teachers. Find an instructor that can take you from raw beginner to advanced player and dedicate yourself to the path. Whatever instrument you decide to play, spending time with it is the key to becoming a proficient player. Most of all, have fun!
More advice from MusiciansCoupons.com on picking the right musical instrument:
» Musicians Coupons » Info and Tips for Musicians » Musical Instruments » Choosing the Perfect Musical Instrument